Afternoon all!  So my second post of the day is a review on the blog tour of In My Attic by Lina Hansen, Book 1 in the Magical Misfits Mystery series.  This is a fab cozy mystery full of secrets and witchcraft….

book blurb & info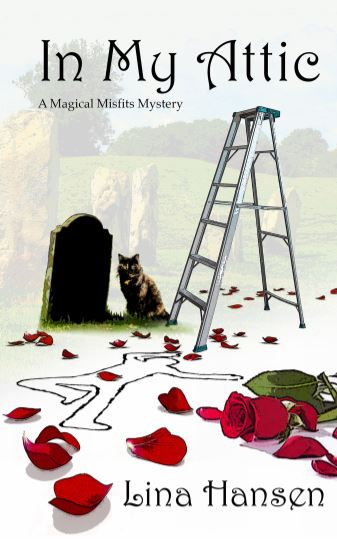 Magical Misfits Mystery, Book 1
Date Published:
1 July 2020
Publisher: Literary Wanderlust, Denver, Colorado
Myrtle's aunt is dead—murdered—and she has inherited the Witch's Retreat, a Bed and Breakfast in the idyllic village of Avebury. Filled with outrageous characters, the old house hides a mystery under its eaves. Everybody is a suspect: Alan, the blue-eyed police constable; Chris, the proverbial dark and handsome stranger; Myrtle's curvy cousin Daisy; and even Tiddles, the flatulent cat. As Myrtle takes on the mantle of amateur sleuth, she bumbles along in search of answers, digging deeper and deeper among the tangled roots of her family's history. The secrets she uncovers are more shocking than death: a hidden magical relic, a coven of amateur witches eager to gather her into the fold, and modern witch hunters on the prowl.
my review
Myrtle finds herself in Avebury and in charge of a B&B following her Aunts untimely death.  Found under suspicious circumstances, Myrtle knows there's more to her death ~ even the police think it's suspicious but the DI isn't having any of it…..So Myrtle sets out to discover what she can.  But as she starts her amateur investigation, she finds she's also in danger.  Someone doesn't want her looking into the death and tries putting her off.  Unperturbed, she keeps digging and is shocked and amazed by what she uncovers….
Meanwhile, she has to figure out how to run the B&B!  With guests under suspicion, some having disappeared and others wanting to help; Myrtle must discover who she can and can't trust…….
I really enjoyed this cozy mystery.  Myrtle is a fantastic character; a teacher who is thrust in to a difficult position by her Aunt….I definitely wouldn't have wanted to be in her position!!  But she does make a pretty good amateur sleuth, and I loved the fact that there's more to her than we first think.  Her cousin Daisy was pretty infuriating at times; I just want Myrtle to give her a good kick up the bum!!  Some of the male characters in this are SHADY – but I'm not saying anything about anyone in particular – I don't want to ruin it for you!  There are also some fantastic supporting characters and I can't wait for them to return in book 2.
The mystery that Myrtle is trying to figure out keeps you reading.  She thinks her Aunt must have left her a message and tries to hunt it down, but there's even more than that for her to discover!  I did find at times throughout the story it seemed to slow down and I wanted it to speed up a bit, but it does pick up towards the end. and we seem to find out quite a lot all in one go.
This is a fab first in the series though, and I'm really looking forward to seeing what comes next; especially after everything Myrtle uncovers.  Overall, if you're looking for a new cozy mystery with witches and magic, then this could be for you.  Recommended by me and looking forward to book 2.
rating
⭐️⭐️⭐️⭐️
about the author
LINA HANSEN has been a freelance travel journalist, teacher, bellydancer, postal clerk and science communication specialist stranded in the space sector. Numbed by factoid technical texts, she set out to write the stories she loves to read— cozy and romantic mysteries with a dollop of humour and a magical twist. After living and working in the UK, Lina, her husband, and their feline companion now share a home in the foothills of Castle Frankenstein. Lina is a double Watty Award Winner, Featured Author, and a Wattpad Star.
tour hosted by
Thanks to RABT Book Tours & PR for inviting me on to the tour, and to the author and publisher for gifting me a copy of the book.  All views and opinions are my own.
See you tomorrow lovelies!
Chelle x
Please note this post contains Amazon affiliate links.  If you choose to purchase this book through these link, I will receive a small payment (at no additional cost to you).  This is the only form of monetisation on my blog so every little helps and is appreciated.